Rob Kardashian has gone through quite a lot in his life and all of this had finally resulted in a wakeup call for him. You may or may not have heard of Rob Kardashian weight loss but the fact is he had to do a major overhaul of his life. He had been rushed to hospital in 2015 and was diagnosed with diabetes. The doctors told him he needed to lose lots of weight right away or his condition was going to get worse.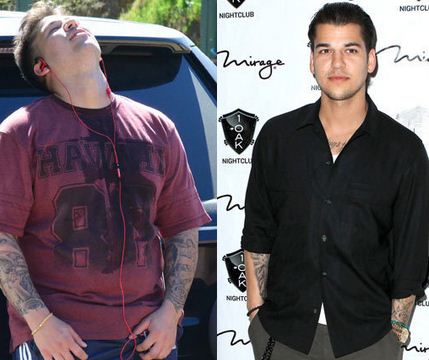 Diagnosis
The reclusive 29 year old, who was a part of Dancing with the Stars (where he came in second), the Choice and Keeping up with the Kardashians, had been admitted to the hospital during the Christmas season when he fell ill. He got the shock of his life when the test results came in and showed his blood sugar levels were very high and that he had developed the adult onset of diabetes. After this, doctors begged him to lose the 100 pounds he put on over the last year and start exercising regularly if he wanted to keep this condition in check.
Wake up call
Sources confirm that he is home now and is feeling fine. He views this as a major wakeup call and he has dramatically changed his diet and started exercising regularly, ever since.
Missing from the spotlight
He has been unseen among celebrities for the last few months ever since he ditched Keeping up with the Kardashians and has even been subjected to multiple cruel jokes by the rest of his family. Kim Kardashian, his sister, had said that the reason he dropped out of the show was because he had gained weight and was feeling uncomfortable. She also said that she believed he smoked weed, drank beer and played video games all day. She did, however, say that he wasn't into hard drugs like meth or else he would have been skinny.
Latest
New photos emerged this week of an overweight Rob with Blac Chyna, his new girlfriend. This is the first time that he has been spotted since he began his healthier regime.
He also recently shared a Snapchat which looked like it was taken from a hike with the new woman in his life and her son.
He too joined this media sharing app this week with quite an intriguing username 'Robphuckedme'. This is a huge for Rob who has been out of the media spotlight since he gained 100 lbs and has been battling depression ever since.
He also shared an Instagram video with various weight machines which indicated that he had begun hitting the gym.
He also reported that he has been off drugs for a while now and has been living a healthier life ever since he moved in with his girlfriend.
He claims to be working out every day and is eating healthy in order to lose weight.
Conclusion
But, the Rob Kardashian weight loss story is far from over. Rob has been hard at work to lose weight and hopefully he will soon be able to lose the extra pounds that have put his health at risk.