The Nadiya Hussain Drinking and Walking
Weight Loss Diet
Losing weight is difficult and losing even just a stone is a huge milestone, so when 2015 Great British Bake Off winner Nadiya Hussain lost 3 stone in just 9 months, people got excited and eager to find out which diet pill or recipe she had used.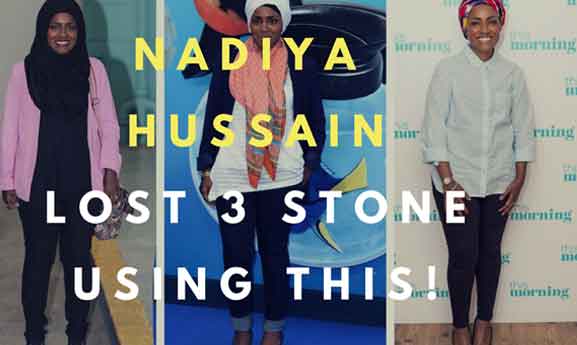 The star's revelation as to how she achieved the weight loss was remarkable – she did it by mainly drinking plenty of water and walking. She also made sure to eat smaller portion sizes of the right food.
This may all seem far-fetched because most people thought it was some pill, shake or herbal tea especially considering that this all happened when the 16:8, and 400-600-600 diets were working wonder for many people. Many people struggle with sticking to diets, and Nadiya was no exception and so she opted for a simpler alternative.
Nadiya Hussain Diet
The star went on to show that losing weight on autopilot is perhaps the easiest way to shed the extra pounds, and she also showed that gradual weight loss is probably the best.
While some stars have used some diets, pills, and supplements to lose weight dramatically in short spaces of time, research has shown that it is healthier to shed excess weight gradually than all at once.
Nadiya Hussain lost her weight by focusing primarily on changing her habits and lifestyle rather than through some diet or pills, and this is how she also managed to maintain her weight.
This goes on to show that losing weight is not just about the weight, but about an active effort to stay healthy for overall well being.
Nadiya Hussain Recipes for Weight Loss
Water, walking and eating right are the ingredients of Nadiya's weight loss recipe. The star said she made sure to drink 4 liters of water each day, and she walked a total of at least 10 miles each day.
Nadiya also integrated some Zumba workouts into her routine and this worked wonders without bearing too much on her body as the workouts were more fun than painful work.
Another recipe for success was sticking to one meal per day which was taken before 5.30pm each day, and the rest of the day she snacked on fruit and water. She avoided any overeating, made sure she stuck to healthy wholesome foods, and she stayed active
Any Weight Loss Pills for Nadiya Hussain?
Nadiya opted for a weight loss option that was not only safe but also did not impose a lot of restrictions on her life like some diets and pills do. She stuck to the natural way of doing things and the results speak for themselves.
The star has managed to maintain her beautiful body by focusing on staying healthy, and implementing her weight loss regime, albeit with more than one meal per day, and indulging herself with some treats once in a while – after all she is known for her amazing food which is a bit heavy handed when it comes to calories.
If you have been looking for a sensible and doable strategy for losing weight, Nadiya Hussain's way seems viable and definitely worth trying. It shows just how much you can achieve if you put your mind to it.
DON'T MISS
Buddy Valastro weight loss (35 lbs) prove different
Johnny Vegas Weight Loss: which diet helped to him lose 3-stone?
Fern Britton weight loss: How she Lost 5 stone through Diet In one week!