What are Celebrities Saying about Nutrisystem!

Neglecting a proper diet and gaining weight are just two sides of a coin. In our daily life, we are unable to take care of ourselves. Thus, we gain weight and become unhealthier. We all need a plate of nutritious and tasty food. But is it even possible to have both of the factors together?

Nutrisystem made it happen with their range of proper diet calculated by professionals.
Not only us, but celebrities lead more hectic schedules, and their work pressure impacts their food. Nutrisystem helped thousands of individuals to take care of their nutrition needs.
Let's see what Nutrisystem celebrities are saying about us:
Not only the celebrities, who don't want to possess their favourite food way tastier-healthier and packed with nutrition?
Our planned and balanced diet helps you to get rid of being overweight and unhealthy. All our Nutrisystem spokesperson has shared their experiences and suggests you try as well.
1. Melissa Joan Hart lost 30 Pounds: Nutrisystem Spokesperson
The bitter truth is that every woman does not measure their weight just by the pound but by their clothes' size. Yes, Melissa is very conscious of her jeans' size.
She had gained almost 30lbs after her pregnancy. She was apprehensive about her weight. She could not get time to go to the gym for her child, so the only option she has left had a proper diet. So, she chose Nutrisystem.
"It is effortless to have food that works on me properly. I can eat whenever I want. It is always on my cabinet, and I can even carry the healthy bars in my purse even when I am out," –said Melissa to Nutrisystem.
Well, Nutrisystem worked on Melissa, and she lost 30 pounds. Now she's happy to endorse the brand.
2. Jade Roper Tolbert: A Proud Nutrisystem Celebrity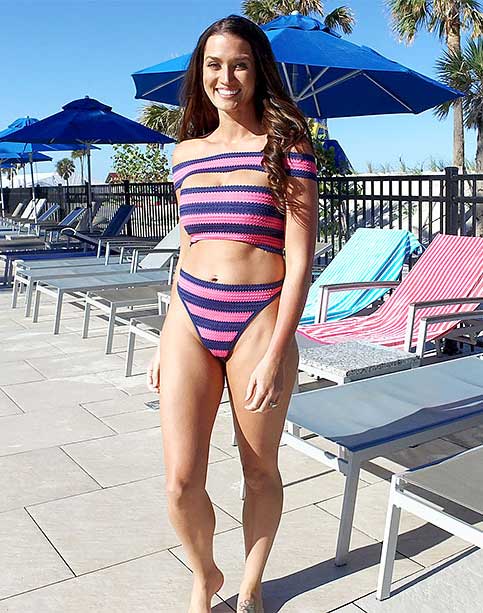 Jade Roper Tolbert told just another post-pregnancy story. She was tensed about her weight gain after her pregnancy which was about 10 pounds. 
"My body weight used to haunt me, and badly, I wanted to get back my swimsuit shape," Jade told Nutrisystem.
She also mentioned, "with an infant. It is always challenging to count on calories, having a meal on time. Hence, we eat unhealthy or easy to prep food. But once I started my journey with Nutrisystem, everything became so easy. Thanks to Nutrisystem"
Now she has ample time to play with her little daughter and having healthy food at the same t
3. Tanner Tolbert Reduced 25lbs: Nutrisystem Spokesperson
We all must remember Tanner Tolbert from Bachelor of Paradise2. He has lost 25lbs with Nutrisystem. 
He said, "Suddenly I gained 25pounds, and it made me so worried about my career. With a 'dad-body,' it was becoming tough to work in our field. Then Jade convinced me to take Nutrisystem, which worked like magic."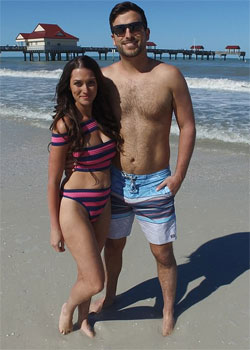 "We don't have to go to the gym. We can have our Nutrisystem healthy pizza or bar at a time while feeding our baby. It's delicious and healthy at the same time.
I'm so happy by getting back into shape," said Tanner with a big smile on his face. He is happily endorsing Nutrisystem for a long time.
4. Marie Osmond: The Face of Nutrisystem!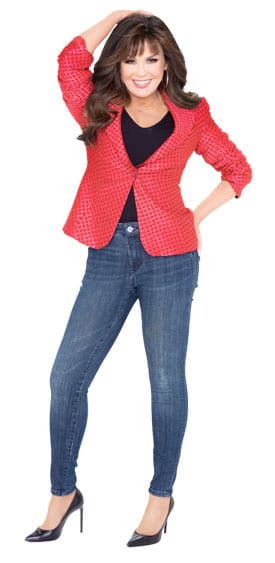 The face of Nutrisystem is none other than very gorgeous and talented Marie Osmond. She believes that gaining weight is not always about pounds or how pretty you look.
It is about how you feel about yourself. Marie's weight was somehow getting heavier on her physical health. 
She was suffering from joint pain, body ache, and most importantly, she was getting out of energy. All these problems were related to her weight.
"My first goal was to be healthy. But as a woman, I love having a small waistline and an even smaller backside. And I have to admit, thanks to Nutrisystem, I have both. I have so much energy now, too," Marie told Nutrisystem.
The diet completely changed the way Osmond felt and made her more confident about her life. She takes her meals at the right time, leads a healthy living. 
Why Marie Osmond Chose Nutrisystem & How It Worked!
"I haven't had this kind of energy in at least ten years. I feel like getting out and rock climbing and biking and doing things I love doing but didn't because I was overweight.
I feel better, and I feel younger, too. They say you can't turn back time. Well, look at me and say that!" Her marketing or endorsing efforts were so successful that people trusted Nutrisystem as "Marie Osmond's Diet."
5. Dan Marino: Nutrisystem Celebrity Spokesperson
Just after retirement, Dan Marino started gaining weight. He tried his best to keep fit, but nothing worked on. Being a TV analyst was a different thing than being on the ground.
Here, he could not hide behind a helmet and pads, so he must lose weight to look good. Even after exercising, his metabolism had caught up, and as a result, his weight was piling up. Then everything changed with Nutrisystem. 
"When I first saw my buddy, Jim Stuckey had lost weight on a program, without wasting time I called Nutrisystem. And thank God I did. I have lost 22lbs for the diet, and I'm so glad that I did it." Marino said to Nutrisystem. 
"Even when I went to Dan Patrick's show, he asked me I look great. I smiled and said, it's Nutrisystem." 
"With Nutrisystem, I got a variety of delicious foods to eat, and they were super easy to prepare. It was an easy, convenient and delicious way to feel satisfied."
It was such a nice endorsement from a great player. Nutrisystem is happy to help them.
6. Gizelle Bryant: Nutrisystem Celebrity spokesperson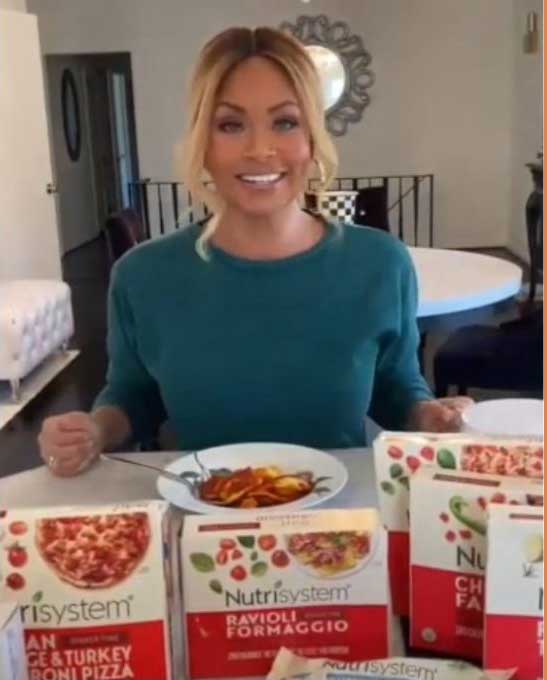 Most of us have a sweet tooth, but we could not tempt it for fear of gaining weight.
So, the famous reality TV star Gizelle Bryant has the same problem with her sweet tooth but never dares to eat. She wanted a diet plan by not eliminating her crave for desserts, chocolates, cakes, cookies, and pies. 
"I can't think about my diet without sweets. I want to be in shape for years. Nutrisystem has allowed me to lose weight without leaving my sweet craving behind. So, this year, I'm concentrating on my health and fitness game." said Gizelle to Nutrisystem. 
Nutrisystem has its whole range of desserts like- cakes, cookies, pies, and shakes. It has chocolate bars for sweet cravings. 
We love to serve Gizelle just as she wanted her diet to be. She thanked Nutrisystem for helping her.
7. Genie Francis Lost 40lbs: Nutrisystem Spokesperson
Genie Francis lost 40lbs using Nutrisystem. After her sister's death, she turned to food for comfort, and as a result, it became a significant problem for her.
She started putting on a lot of weight. Started working out, but nothing worked. But Nutrisystem did. 
"I lost 40 lbs on Nutrisystem, and I've learned how to eat the right amount of breakfast, lunch, and dinner, which helps to keep the weight off.
I get to eat the foods I love on Nutrisystem, which satisfies my cravings", told Genie with a big smile. 
"Until I found Nutrisystem, I had to suffer from losing weight. I had to stop eating the food I love. That's not true with Nutrisystem, and I am not suffering here! I will never go back to those crazy diets. I am working on my diet and a living proof that Nutrisystem works. If it works for me, it will work for you."
 This is a pleasure that Nutrisystem worked on Genie in her weight loss journey. She is endorsing the brand with a bright face.
8. Soleil Moon Frye Lost 40 lbs: Nutrisystem Spokesperson
It is a pervasive factor for every mother to gain weight after their pregnancy. In Soleil's case, it was more difficult because of the birth of her third child. It was tough for her, and she was going towards depression.
So, her good friend Melissa advised her to take Nutrisystem if she wants to be in shape. Without wasting time, she called up Nutrisystem and placed her first order. 
"Here I am, 40 lbs down since giving birth to my third child, and I feel amazing! Now I perfectly fit into a dress; I'm not starving myself. Just eating healthy and losing weight seamlessly."
Now she is endorsing the brand on her social media and happily encouraging others to in their journey.
9. Joey Fatone: Nutrisystem Celebrity



The quarantine weight gain struggle has summed up in Joey Fatone's story. He started gaining weight in the pandemic in March 2020.
It was challenging for him to lose weight just by sitting at home. Unhealthy lifestyle, Improper diet has changed everything.
In this situation, Joey chose Nutrisystem for him and got an excellent result. He started some old habits and gained weight during the quarantine.
He added pounds to his scale with reasons of stress and constantly being surrounded by foods at home.
"It's a new year, and I'm ready to make some changes. I want to go back to those fit old days, and in the journey, Nutrisystem helped me a lot," he said.
"I challenge you guys, come with me and join this challenge and let's lose this weight together. Let's see what we can do and live more of a healthy lifestyle," said Joey
Even Joey's dad has joined the Nutrisystem family, and according to him, "he's crashing it and losing weight too!"
10. Sean and Catherine Lowe: Nutrisystem Celebrity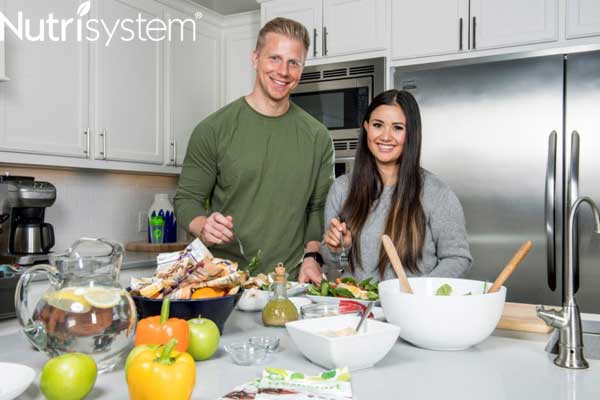 As parents of three, "The Bachelor" stars Sean and Catherine Lowe are living proof that weight loss truly is better together. After having the third child in December 2019, Catherine was ready to control her health issues.
Sean put on some weight during the first couple of months in the pandemic and realized he needed to start making better decisions for himself.
"Sean and I went on the Nutrisystem Partner Plan together during quarantine, and I feel amazing. Losing weight can be frustrating sometimes, so having a buddy to keep you motivated can make a huge difference. Plus, a little friendly competition never hurt anyone." said Catherine.
"We've found that being healthy is only possible if we're both in it together. She is my accountability partner." Sean said. 
To date, Sean has lost 15 pounds on Nutrisystem, and Catherine has lost 20 pounds. So, they are happily endorsing Nutrisystem for a year.
11. Janet Jackson Lost 50 pounds: Nutrisystem Spokesperson
Stress eating or emotional eating became a curse for Janet Jackson over the years. This is a common problem that affects the health of a lot of people around the world. 
For Janet, it was very risky to become diabetic if she leads a somewhat unhealthy lifestyle.
The doctor said that she was at the edge of the illness, and she became very concerned for herself too. Then she took a step to become a Nutrisystem celebrity spokesperson. 
"It's a matter of maintenance and keeping the weight off, My success plan was to feel good about myself and be healthy." she recently told Nutrisystem.
This product has done a spectacular job, and Janet is happily living her weight loss life. She is now healthy and probably warded off the threat of diabetes once and for all.
12. Julie Chrisley: Lost 20 Pounds with Nutrisystem
Julie Chrisley is a famous face of reality TV series. She has lost 20 pounds and proudly endorses Nutrisystem and her weight loss journey.
"Overeating was a struggle, no matter what I was eating," she said. "Now I don't have to think about it because Nutrisystem is taking care of it."
"If we're completely honest, everyone can say it's not about the weight or how you look, but I'm a 45-year-old woman.
Dropping some weight makes me feel better about myself because I know that I look better and healthier. It's just good all the way around."
She is very healthy and claims herself as a perfect fit for her old dresses. She is using it for years and telling everyone to use it for once. Her journey has been spectacular, and she is willing to become the next ambassador for the product.
What's the Real Reason behind Nutrisystem's Popularity?
One significant strength of the Nutrisystem diet is free to support and counseling. Once you buy your food, you're given access to free nutritional and weight loss counseling.
You can either get this online (in real-time) or over the phone – whichever you are most comfortable with. The counselors are knowledgeable, motivating, and patient, and you can repeatedly ask for the same one.
The members' area only of the site is also chock full of nutritional guidelines and support, so if you'd instead go it alone, you'll have more than enough tools and education to do it.
Also, the directions and guidelines are pretty straightforward. Each food has suggested the sides.
There are tons of success stories and inspiration on the site, and these folks are more than eager to tell you precisely how they did it. Read More success and inspiration stories…

Conclusion
This company has been around for over 35 years, and weight loss specialists developed the diet. A claim on the company's website said that 4 out of 5 dieters surveyed indicated they were "never hungry" on Nutrisystem.
Nutrisystem claims that most people lose 2 pounds per week and upon this plan. Everything depends upon the carb content of the sides you are adding in since the company's foods are a variable that doesn't change.
Also, the foods are high in proteins and fiber. This is done to make you feel full for much longer.
This combination helps to put your body in ketosis, a metabolic state wherein your body burns fat instead of carbohydrates due to the higher amounts of protein you are taking in.
Last but not least, for the last several years, Forbes magazine has ranked Nutrisystem as the lowest price popular diet program.
Still, this is even before coupons, and once you use them, you will often find that you can pay less than you would pay if you were attempting to diet and buy groceries.
You have got some influence on the stories of Nutrisystem Celebrities.
So, try not to waste time and register today for free counseling and start your plan now. It won't disappoint you, or else the money-back guarantee is always on the website if not resulted!